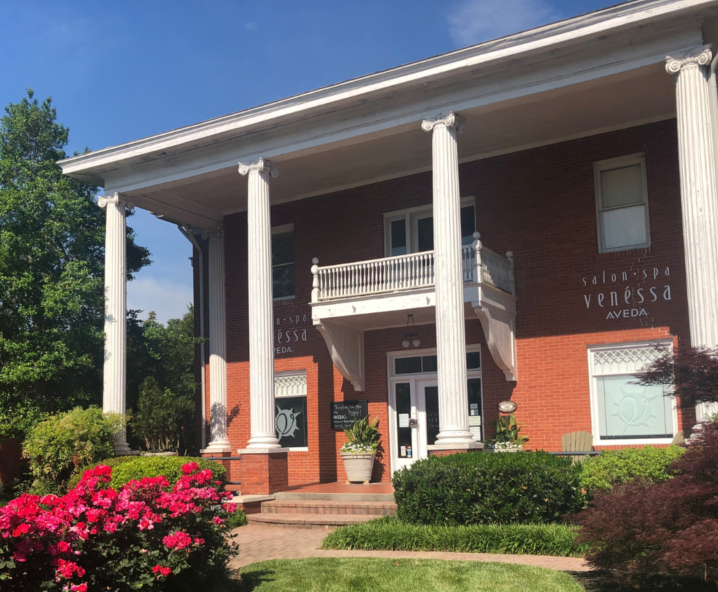 Reflecting on Thirty-Two Years
Thirty-two years ago, Venessa and her husband, Ivey opened a tiny four chair Aveda concept salon in Woodstock. This sleepy little town only had two red lights, one restaurant, which was The 1904 House, and many buildings were in total disrepair. However,  one historic building was standing grand on Main Street, The Johnston House. This stately mansion would eventually become home to Salon and Spa Venessa.
The Laniers took ownership of The Johnston House 22 years ago and a remodel immediately ensued in order to meet the needs of an already established but growing salon and spa business. Throughout the 32 years, the never-ending efforts and support of Ivey Lanier are the backbone of much success.  There is so much gratitude for his skill, attention to detail and  commitment throughout the periods of construction, relocation, and remodels, not to mention his attention to the long list of everyday maintenance for 32 years.
In 1991, I-575 led to open spaces and new subdivisions that were affordable for young families and it was Venessa's goal to create a salon that would meet clients in their new hometown, while delivering the same professionalism of an "in the city" salon. She is extremely grateful for many years of training with a leader in the industry, Van Michael Salons and also having an opportunity to be an educator for an Aveda distributor. From these experiences, Venessa was able to travel to many small southern towns, creating a vision and business plan of a salon she dreamt of owning.
During the time that Venessa initially opened Salon and Spa Venessa, the industry lacked technology. Cell phone and social media were non-existent and there was not any type of specialized computer software to help run and organize a salon business. Additionally, the salon and spa music came from a 100-disc CD player. Venessa is quite positive that she still has every CD played throughout the salon if anyone is interested in them.
"Words cannot even begin to describe how touched I am by the memories of our first few days of opening our original salon in 1991 to our current thriving business in 2023. Decades in-between have encompassed sweat, challenges, accomplishments, growth and much more pride and extreme joy. Looking back now, I would NEVER change any of the hardships either, because those are the times that encouraged growth, as a business and for me personally. The daily challenges only have become opportunities to learn and to improve," Venessa notes.
Today, Salon and Spa Venessa embraces advanced education and has implemented the most modern technology to offer guests the ease of booking and tools for communication. However, more recently they are exceptionally proud of their partnership with Green Circle, which has empowered the entire team to recover and recycle 95% of all unavoidable beauty waste generated by day-to-day operations. Their commitment and efforts have allowed Salon and Spa Venessa to be a fearless leader in the industry as a certified carbon neutral salon. 

Although it was 32 years ago that Venessa had the original vision to open a salon and spa in the heart of downtown Woodstock, she credits her amazing team of committed professionals for it's success. They are the heartbeat and breath of Salon and Spa Venessa, who are committed to advanced education and embracing the knowledge that their job goes well beyond performing services.
Venessa humbly concludes, "I am very blessed and grateful to work alongside such a talented team each and every day. I also have so much heartfelt appreciation for the multitude of guests who have trusted us to nurture and serve them for 32 years. I have made lifelong friendships and amazing acquaintances, learning and growing with so many. I am so appreciative and humbled that a true dream of mine has become an unbelievable reality, where I am able to touch the lives of so many while being part of a thriving and vibrant downtown community."