Salon and Spa Venessa Celebrates Thirty Years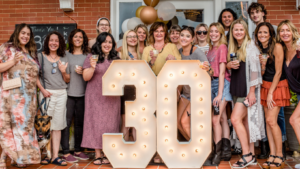 In July of 2021, Salon and Spa Venessa celebrated 30 years of nurturing guests with beauty and wellness in downtown Woodstock. Since it's inception in July of 1991, Salon and Spa Venessa has been committed to delivering exceptional salon and spa services in a unique and luxurious atmosphere.
Originally located at 164 Towne Lake Parkway, Salon and Spa Venessa outgrew their space and in 2001 found a new home in the prominent and historic Johnston House on Main Street. With an abundant amount of love and a vision to create a true sanctuary of wellness and tranquility in the community, the Greek revival mansion was transformed into a lifestyle salon and spa offering guests an extensive menu of salon services and spa treatments.
Over the past 30 years, Salon and Spa Venessa has been successful at evolving and adapting to the vivaciously growing downtown community of Woodstock and is extremely proud to be an established and sustainable business. Presently, Salon and Spa Venessa employs a team of 25 salon, spa and administrative professionals, who all share a passion of connecting with people and ensuring guests feel confidently beautiful inside and out.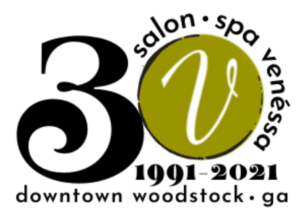 Salon and Spa Venessa has been recognized by Salon Today Magazine as one of the Top 200 fastest growing salons in North America.
A celebration for the 30-year milestone began in July and continued through the month of August honoring guests with gifts of gratitude, special discounts, promotions.